November 30th, 2007
My friend, Diana Reed, invited me to join her net group
Our Garden Of Friends
I'm delighted to be a 'blossom' in this garden,
and this begins my OGOF dedication pages.
As I add to the page,
current items will be at the top!



Bingo with the Blossoms at Christmastime!
I didn't win, waaa!
But Sharon says we're all winners in her book!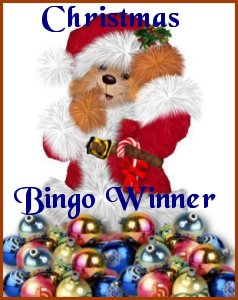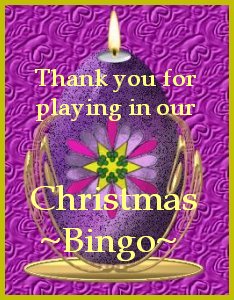 I'm just in time to celebrate OGOF's 7th birthday, hooray!
Here's my gift to Diana & all o' the Blossoms!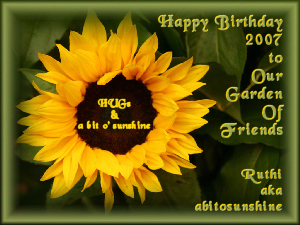 "Golden Ray"
Midi used with permission
And is composed and sequenced by Mary Hession
Do Not Remove.

If you would like to make a donation
just click the donation button below,
email your banner to ruthcox@abitosunshine.net
With your PayPal contribution of $10 or more,
I will add your 480 x 60 pixels banner & website link
to my banner-ad-rotator on this page for 1 year.
(random rotator will also be on other pages of abitosunshine)



Free JavaScripts provided by The JavaScript Source

All poetry & writings, photos, graphics & midis are copyrighted.
Please respect my wishes that they not be used...
Nor be removed from the pages of abitosunshine...
Without the written permission of myself and/or the artist.
Your cooperation is appreciated.
© 2000-Present, Ruth Cox