It happened accidentally,
This section at abitosunshine.
A bit o' fun & frivolity
With a brand new cyber pal o' mine.

Since we're both cyber quilt addicted,
My suggestion she didn't decline.
Now, my new friend, Cathy & I,
Are quiltin' to share a bit o' sunshine!

Well, my idea just stuck in my head
And I thought o' my many cyber friends.
I've decided to do this monthly, forever
Selectin' a pal a month my sunshine to send!

The greatest thing about it all
Is that from each I receive a quilt so fine.
For in return for my daily gifts
Puter pals are sendin' me bunches o' sunshine!

I invite you to click down below
To enjoy the gifts given me.
And you just never know m'friend
Your name below you may one day see!
~ Ruthi ~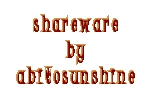 Note: shareware by abitosunshine is copyright protected.
This means that you may not "snag" my shareware product!
You may not share nor sell my shareware product as your own.

Sun tube provided by Donna, my friend!
Used with permission.
Do not remove.
"Golden Ray"
Midi used with permission
And is composed and sequenced by Mary Hession
Do Not Remove.
Free JavaScripts provided by The JavaScript Source
Need a great web hosting package?
Click the link below for the best!
And be sure to tell them...
abitosunshine.net
...sent you!
YES, I make $$$ on the referral program!
ReadyHosting.com
All poetry & writings, photos, graphics & midis are copyrighted.
Please respect my wishes that they not be used...
Nor be removed from the pages of abitosunshine...
Without the written permission of myself and the artist.
Your cooperation is appreciated.
© 2002-Present Ruth Cox