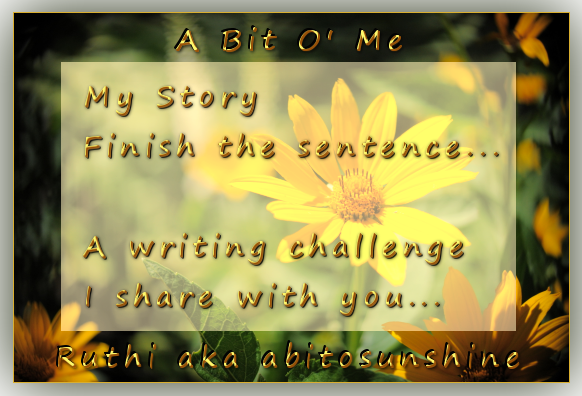 In the writing group at Women With A Unique Soul
a challenge was posted and I answered the call to write.

It's long been a wish o' mine
to write my life story in rhyme.
So I tackled this challenge as practice toward that end.

Thank you, Dianna,
for deliverin' a prompt to motivate me.

I share my response to the challenge here on this page.


My Story
Finish the sentence...


Hi, my name is...

...Ruth Anne Cox, "Ruthi" or "Sunshine" to those who know me well.
Now settle into your seat 'n' plan to sit for a spell,
I've a few tidbits o' my story to show 'n' to tell.


Never in my life have I been...

...more determined to climb out o' the dark clouds in my skies.
My fam'ly o' friends have dried the tears o' my cryin' eyes,
Enablin' my spirit o' the sun once again to rise.


The one person who can drive me nuts is...

...my son William, whom I hold in my heart by day 'n' night.
His name is engraved upon the hand o' God 'n' held tight,
As he deals with the demons that steal him 'way from sunlight.


High school...

...for me twas quite a fright'nin' 'n' a tumultuous time.
To still the fears, twas then that I began writin' in rhyme,
A gift granted from Him above, words oft' o' the sublime.


When I'm nervous...

...I chitter-chatter, worryin' o'er what all's the matter.
I gorge m'self on comfort foods that make me grow fatter,
Ultimately makin' m'self feel mad as the Hatter.


The last song I listened to was...

...Frank Sinatra 'n' Luis Miguel with "Come Fly With Me."
O' how I'd like to wing it on a world-wide flyin' spree,
One fine day I'd soar right in 'n' visit a spell with thee.


If I were to get married right now my best man/maid of honor...

...would undoubtedly be in close proximity o' death.
In disbelief, my maid 'n' I would both be out o' breath,
I daresay Dianna'd think o' my senses I'm bereft.


My hair is...

...red, maybe strawberry blonde, tis filled with nature's highlight.
It flows in length 'n' color as a marsh's meadow bright,
Oft' enticin' a wanton lover well into the night.


When I was 13...

...I was young but not naive 'n' to faith in God I'd cleave.
When human love proved to be given only to deceive,
My faith became the lore o' love in which I would believe.


When I was young I wanted to be...

...a veterinarian or a school librarian.
Animals 'n' books have been my true-blue life companions,
While I withstand my destiny o' proletarian.


Last Christmas...

...was spent home alone in peaceful contemplation o' birth.
I mused upon the Nativity 'n' all that it's worth,
Pondered the essence o' Jesus left behind here on earth.


I should be...

...doin' more - justify the existence I've been given.
I fear that I've spent more time survivin' than in livin',
But I s'pose it's ne'er too late to be purpose-driven.


When I look down I see...

...unconditional love lookin' right back at me - my girls.
Tidbit lies calm at my feet in her canine sausage curl,
Scratch stands nearby awaitin' me givin' her tail a whirl.


My most happiest recent event was...

...the "Smiles Across The Miles" parcel I received in the mail.
As a matter o' fact, candlelight smiles are doin' well,
Providin' light for the rhyme in this writin' to prevail.


If I were a character on TV I'd be...

...host o' the latest reality show - Sunshine Island.
Those in need would receive a warm, welcomin' helpin' hand,
Til time came they could make it on their own on the mainland.


If I were a cartoon character, I`d be...

...the one, the unique, lady o' the sun - Sissy SunBurst!
The kind ones o' the earth in warmth o' the sun are submersed,
The unkind ones on earth would receive a sunburn, so cursed.


By this time next year...

...I'd welcome weather related environmental change.
I'm gettin' old, don't like the cold, and, no, I'm not deranged,
Snowy white for sunny delight would be a grand exhange.


My current gripe is...

...how hard it is to stay focused on what I want from me.
There's much I want to do 'n' say 'n' much I want to be,
I'm bein' held back by my own dysfunctionality.


I have a hard time understanding...

...how anyone can do somethin' they know will harm a child.
For darin' to damage the spirit o' the meek 'n' mild,
In word 'n' in deed those so hideous should be reviled.


You know I like you when...

...I allow you to lash out at me 'n' I don't lash back.
Of course, I may be workin' on my own plan to attack,
A bright burst o' sunshine can give you a wallopin' whack.


If I won an award, the first person I would tell would be...

...all o' my sisters by choice - Women With A Unique Soul.
I couldn't tell just one, for each are a part o' the whole,
Only they would know the struggle my virtues to extol.


Take my advice...

...love 'n' forever are only for as long as they last.
In the future, the mem'ries o' yesteryear shall be vast.
Live the day in the present, before it becomes the past.


The thing I want to buy...

...alas, m'friend, it cannot be bought nor can it be sold.
Twould be a gift for young at heart 'n' for the jaded old.
I'd shop for serenity 'n' give it to thee as gold.


If you visited the place I was born...

...maybe some light would be shed upon a matter o' dearth.
Assumin' you could go way back to the day o' my birth,
You might see the man who sired me 'n' tell him o' my worth.


I plan to visit...

...a few o' my sisters-by-choice this year, if things work out.
These are the gals I share my life with, day in 'n' day out,
I'd love a face-to-face meetin' with each, I have no doubt.


If you spent the night at my house...

...I doubt you'd get much sleep, we'd babble well into the night.
We'd talk o' love 'n' lore 'n' cure each 'n' ev'ryone's plight,
It's possible it could take us til the dawn's early light.


I'd stop my wedding if...

...I thought I'd lost in love all o' my sensibilities.
In love I no longer trust in survivabilities,
Must be my natural talent for fallibilities.


The world could do without...

...a lot o' the conveniences we've grown accustomed to.
The diff'rence between "need" 'n' "want" we somewhat misconstrue,
We could live with less if our hunger for "things" we'd subdue.


I'd rather lick the belly of a cockroach than...

...to give 'way my heart 'n' spirit to fall in love again.
From the throes o' lovin' a man I've chosen to abstain,
For the myst'ries o' bein' in love seem to be arcain.


Most recent thing I've bought myself...

...was a signed copy o' m'friend Dianna's latest book!
Get yourself a copy 'n' find yourself a readin' nook,
"Echoes of a Woman's Soul" is poetry off the hook.


Most recent thing someone else bought me...

...Scottie brought me sunshine back from one o' his recent trips.
A gift o' the sun makes my heart dance a hop 'n' a skip,
And the frown on my face right into a smile it'll flip.


My favorite red head is...

...my son, of course, has always been 'n' he ever will be.
Sharin' my carrottop isn't all that he got from me,
It seems he also has my survivorship legacy.


My favorite brunette is...

...an angel gal who lives alone 'way in the Down Under.
She has the spirit o' the sky 'n' is filled with wonder,
So deserves to be beguiled, not to be put asunder.


My favorite blonde is...

...most definitely a difficult one for me to choose.
It doesn't help that beautiful blondes come in umpteen hues.
My favorite one? Regretfully, I haven't a clue.


My middle name is...

...a special tidbit o' my ancestral identity.
"Anne" comes from "Anna Mae" - Mom, she gave me nativity,
Passed on from my Grandma "Anna" - fam'ly festivity.


In the morning I...

...I open up my eyes 'n' raise my head unto the sky.
I 'wait the risin' o' the sun as I'm ponderin' why,
Why, o' why, is it another day but to do or die?


Once, at a bar...

...I accepted a job offer while there shootin' some pool.
Not only was Cynda, the owner, a joy 'n' a jewel,
I also made a few good friends, not one a drunken fool.


Last night I was...

...too tired to write a bit o' my story for you to read.
I went to bed, lay down my head, to sleep I did concede.
Tonight the challenge did proceed with gratifyin' speed.


There's this guy I know who...

...I wish would have loved me much in the way that I loved him.
Now that I know that I was li'l more than a passin' whim,
Ne'er again will I e'er lay my heart out on a love limb.


If I was an animal I'd be...

...female cougar, cat o' one color, with claws that assail.
Seductive 'n' slender, balanced from head to the tail,
The huntress o' golden amber, her attack never fails.


A better name for me would be...

...not a name could be more fittin' than "abitosunshine."
I cannot do a whole lot, but from this li'l heart o' mine,
You are guaranteed I'm wishin' you nuttin' but sunshine!


Tomorrow I am...

...gonna get up with the sun, do it all over again.
Off to work I'll go, bills to pay, I'll do it with a grin,
Then home with my mutts to play 'n' maybe a rhyme I'll spin.


Tonight I am...

...at home with my loved ones, Tidbit 'n' Scratch, we are at peace.
Tho' my innermost thoughts 'n' feelin's to share shall ne'er cease,
I'm about to type the last line o' this poetic piece.


My birthday is...

...gonna be a delight this year as I turn fifty-five.
I can chuckle o'er the fast fact that I'll arrive alive.
I've high hopes 'n' sweet dreams that this is the year that I thrive.

the 1st day o' January 2009 ©Ruth Cox

"Golden Ray"
Midi used with permission
And is composed and sequenced by Mary Hession
Do Not Remove.

Exclusive Set
Created by abitosunshine
Do not remove.

Free JavaScripts provided by The JavaScript Source

All poetry & writings, photos, graphics & midis are copyrighted.
Please respect my wishes that they not be used...
Nor be removed from the pages of abitosunshine...
Without the written permission of myself and/or the artist.
Your cooperation is appreciated.
the 7th day o' February 2009 ©Ruth Cox