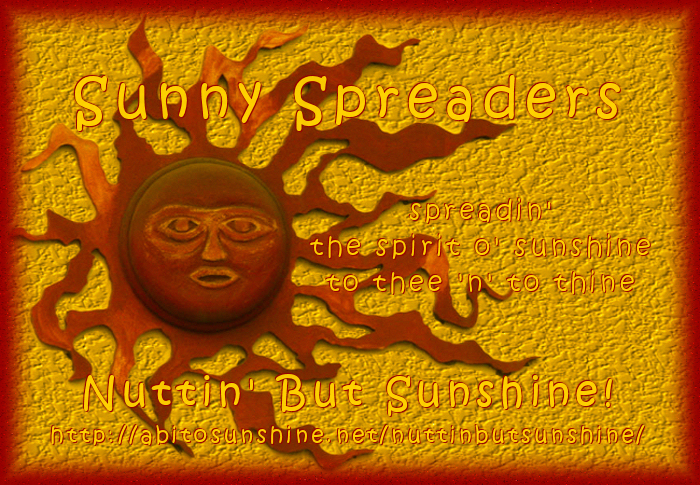 Sunny Spreaders O' Nuttin' But Sunshine!


Twas in the spirit o' spreadin' sunshine
This "Nuttin' But Sunshine!" group we did form.
A place where actions speak louder than words,
Sunshine peekin' out o' the clouds the norm.
We spread our sunshine amid our members,
As well as throughout the internet world.
In emails, poems, graphics, web pages,
The sun on a cloudy day is unfurled.
Sun Spreaders we are 'n' we're proud to be,
Sharin' fun, frolic 'n' friendship divine.
These are the Ray O's that take exta time,
Joyfully spreadin' Nuttin' But Sunshine!



Sunny Spreaders...Ray O's spreadin' nuttin' but sunshine!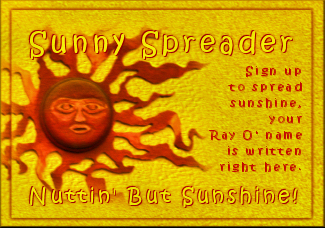 Ray O' Sunshine


To be a Sun Spreader...
1) Ye must desire to spread nuttin' but sunshine to another
In the spirit o' sunshine their clouds to smother.

2) You'll be assigned one who needs a sunny treat.
Must check in with CL when Sun Spreadin' duties are complete.





To become a Sunny Spreader
Just fill out the form below.
We thank ye!


If the form above does not work
Or you've not heard a reply to your submission
Within 24 hours...
Please send the form information above
To me at the email address below...thanks!

Committee Leader Ray O' Sunshine





Free JavaScripts provided by The JavaScript Source
All page graphics, midis and/or poetry are used with permission of the artists,
Both the original artists and/or the webset artists.
Site contents are the sole property of Nuttin' But Sunshine!
Any reproduction of any part of this site is strictly prohibited.
All rights reserved.
©2008 Nuttin' But Sunshine!