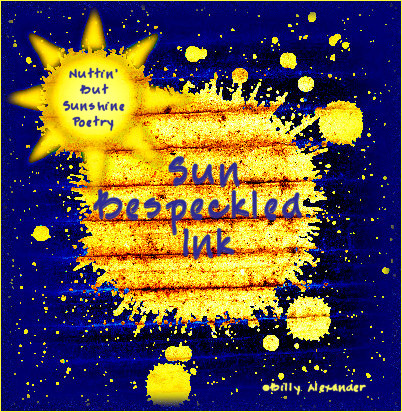 There is a verse spinning,
like threads of silk sewn,
tightly, binding all together

forming beauty, from the cocoon
and wings emerge to be dipped,
glazed over with golden sunshine.

On these wings are carried a gentle touch,
and above all, a tender word to the ear,
with deep astounding emotion and feeling

sharing grief, sorrow, and our joy.
But most of all, for the shining spot
to give sunshine to the whole lot.

We go forward and with our words,
maybe our sad days will be heard,
but not without a shining gleam...

and it is with all of that we share
our written word with heart, and the
times in our lives dancing in the sun.

It feels as life has just begun,
but so quickly each day does pass.
As life goes by us, we sometimes blink

rejoicing, crying, sometimes we weep.
One by one, the minutes are lost, but...
found again with...Sun Bespeckled Ink

©2009 Cynthia E. Jones aka Ray O' Whimsy

To join the poetic fun in the sun,
Just fill out the form below.
(you must be an NBS! member to do so)

If the form above does not work
Or you've not heard a reply to your submission
Within 24 hours...
Please send the form information above
To us at one o' the the email addresses below...thanks!

Committee Leader Ray O' Whimsy
(on temporary LOA, so email to O' Sunshine)

NBS! Founder Ray O' Sunshine


NOTE:
Upon acceptance to Sun Bespeckled Ink,
You'll automatically be added to our
google groups for the committee.
Come share the poetic fun in the sun!








Original Artwork
Created by Billy Alexander
Do Not Remove.

Exclusive Set
Created by abitosunshine
Do not remove.

Free JavaScripts provided by The JavaScript Source

All poetry & writings, photos, graphics & midis are copyrighted.
Please respect my wishes that they not be used...
Nor be removed from the pages of Nuttin' But Sunshine!
Without the written permission of myself and/or the artist.
Your cooperation is appreciated.
the 5th day o' February 2009 ©Ruthi aka abitosunshine
hosting and design by abitosunshine