abitosunshine News!
Here will be the latest page updates,
links to latest poems I've written,
as well as other items of interest.
So check back often & enJOY!
My latest quilts...Birds & NASCAR & Names!

Birds of a Feather fly Together

#99 at abitosunshine!

Who am I - who are you?




My latest page additions...

My latest poem...My Ever Thankful Heart

For those who love quotes, here are a few I've written.
Quotable Quotes

My latest pages at abitosunshine...


my Playful Pets dedication page


100 +1 Things about Sunshine!

Pit Stop - abitosunshine's 1 stop voting page!

And a spirit quilt too!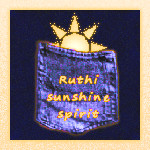 My latest page updates...

Bannershare
I've added a plug board...come plug me!

Birthday Quilts updated 8/27/08.
READ, RATE, COMMENT!
My writings on Associated Content
can be accessed by clicking the AC banner below.
To help me make a little $ please view, rate & comment each o' them...thank you!




Click below to visit & to be a part o' the
quilt o' prayers for my son!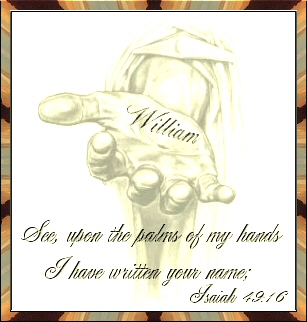 Announcing...
shareware by abitosunshine
You may now purchase
a webset or a poem o' mine!

current shareware creation...
Web O' Sunshine - for Halloween!
Find me on MySpace and be my friend!
Find me on Live Journal and be my friend!
Announcing...
Banner-ad-rotation at abitosunshine!



Just click the donation button below,
email your banner to ruthcox@abitosunshine.net
With your PayPal contribution of $10 or more,
I will add your 480 x 60 pixels banner & website link
to my banner-ad-rotator on this page for 1 year.
(banner-ad-rotator will also be on other pages of abitosunshine)


Announcing...
abitosunshine ebooks!
My 1st ebook o' poetry now available in PDF format.
To purchase your copy just click the BUY NOW button
below the ebook you would like to purchase.
EnJOY!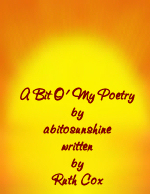 "A Bit O' My Poetry at abitosunshine...
A wee collection o' the pages o' my life,
Some written as happiness, some written as strife.
All are words from my heart that come from above,
JOYously shared with a bit o' sunshine love!"
~Ruth Cox, author




"Golden Ray"
Midi used with permission
And is composed and sequenced by Mary Hession
Do Not Remove.

Exclusive Set
Created by abitosunshine
Do not remove.

Free JavaScripts provided by The JavaScript Source

All poetry & writings, photos, graphics & midis are copyrighted.
Please respect my wishes that they not be used...
Nor be removed from the pages of abitosunshine...
Without the written permission of myself and/or the artist.
Your cooperation is appreciated.
© 2000-Present, Ruth Cox

Hosting and design ©2009 abitosunshine
All Rights Reserved.
Contact Ms. Ruthi